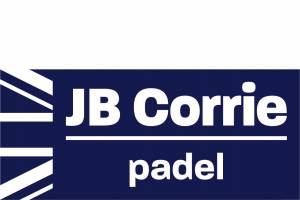 Our credentials
Why JB Corrie
Who we are
Welcome to the home of padel tennis
100 years of fencing excellence
We are a leading manufacturer and installer of fencing and steel fabrications.
For more than a century, we have delivered fencing excellence to commercial premises, defence installations, airports, power stations, schools, local authorities, private clients, theme parks, zoos and sports facilities, throughout the UK and internationally.
We are always moving forward and innovating, which means that we can also specialise in providing a full range of support solutions, including motorway acoustic barriers, car park barriers and security solutions, gates, sports lighting and bespoke projects.
Our latest innovation is our Corrie Padel system.
Robust design
Every aspect of these Padel Tennis Courts is designed to cope with the rigours of outdoor use in the UK, so they will withstand high winds, driving rain and being in coastal locations – robust for all conditions, anywhere in the world.
All materials are hot dipped galvanised to BSEN ISO 1461:2009 to ensure longevity, and powder coated to BSEN 13438, to a choice of colours to suit your requirements. We also offer a 12mm toughened glass (BSEN 12150-1) heat-soaked (BSEN 14719-1), polished edges and countersunk fixings to increase safety and for ease of cleaning.
Standard features:
Stock colour options of green or black 
12mm Glass 
Mesh sides of the Padel court and above the glass are 50 x 50 mesh in pre-built frames, for quick installation
10-year warranty against corrosion
Double court footprint 20 x 10m 
Working with you
We will work with you at every stage of the process, from scoping and planning, through to installation and commissioning, to ensure that your new Padel Tennis Courts meet your expectations.
In our experience, one of the key factors in a successful Padel Court installation is getting the wind calculations right, and then tailoring the build to these requirements. With our in-house expertise we can do all of this for you.
Quality assured
We offer a 10-year warranty on all of our Corrie Padel Court systems and we are a member of the Sports and Play Constructions Association (SAPCA).
The LTA recommends that any contractor you appoint to take on a Padel project should be verified and approved by SAPCA, which we are proud to be a member of.
We were recently nominated by SAPCA as a finalist for the design of our Padel Court Systems:
What you think
Case studies and Testimonials
The number of people enjoying playing Padel Tennis at Chichester Racquets and Fitness Club has exceeded all expectations according to Chairman James Ward who, along with the Board, introduced the game to the club last year. Click here to find out why it has become so popular.