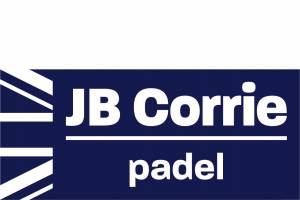 Corrie Padel
Your Perfect Doubles Partner
Who we are
Welcome to the home of padel tennis
100 years of fencing excellence
In padel tennis, you need to select a partner who you can always rely on, who will put 100% in everytime, you knows the game like the back of their hand and who you can trust.
With over 100+ years of experience, family-owned and with a strong financial base, JB Corrie is your perfect doubles partner for padel court installation.
We are a leading manufacturer and installer of fencing and steel fabrications.
For more than a century, we have delivered fencing excellence to commercial premises, defence installations, airports, power stations, schools, local authorities, private clients, theme parks, zoos and sports facilities, throughout the UK and internationally.
Our latest innovation is our Corrie Padel tennis system.
Why we are UK's Leading Padel Court Supplier
Strong and Durable
Never beaten on quality, our product is durable and designed to withstand the varied and unpredictable conditions in the UK, standing strong over the test of time.
Sharing Our Knowledge
Like any good doubles partner, JB Corrie shares our knowledge and experience, advising you along the way to ensure the best possible outcome for all involved.
10 Year Guarantee
Our steelwork is guaranteed for 10 years, giving you peace of mind that they are built to last and remain in top condition.
Tennis Expertise
We benefit from 40+ years experience with tennis court installation and are trailblazers for the UK Padel Tennis movement. Combined with our strong, long-term relationship with the LTA makes us the UK's No 1 choice.
Working with you - Your Perfect Doubles Partner
We will work with you at every stage of the process, from scoping and planning, through to installation and commissioning, to ensure that your new padel tennis courts meet your expectations.
In our experience, one of the key factors in a successful padel court installation is getting the wind calculations right, and then tailoring the build to these requirements. With our in-house expertise we can do all of this for you.
Quality assured
We offer a 10-year warranty on all of our Corrie Padel tennis court systems and we are a member of the Sports and Play Constructions Association (SAPCA).
JB Corrie has an Operational Commitment to work to the highest levels of Health, Safety and Environmental Control:
ISO 9001:2015, BM TRADA
UVDB VERIFY,  The UVDB Verification Process for Health Safety and Environmental Management
The Utility Vendors Database
CHAS (Contractors Health and Safety)
Constructionline
Perimeter Security Suppliers Association
JOSCAR, JOSCAR Defence Industry Community
British Ports Association
Gallagher Perimeter Security Systems, Gallagher Power Fence™
Acclaim SSIP, Certificate of Health & Safety Accreditation Acclaim Accreditation
SAPCA, The Sports and Play Construction Association
The Association of Fencing Industries (formerly The Fencing Contractors Association) AFI
Tennis Industry Association (TIA)
Quality assured
The LTA recommends that any contractor you appoint to take on a padel court project should be verified and approved by SAPCA. We are proud to have been a member of SAPCA for over 25 years (since inception).
We were recently nominated by SAPCA as a finalist for the design of our padel court Systems:
What you think
Case studies and Testimonials
The number of people enjoying playing padel tennis at Chichester Racquets and Fitness Club has exceeded all expectations according to Chairman James Ward who, along with the Board, introduced the game to the club last year. Click here to find out why it has become so popular.