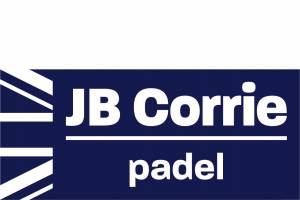 Your Number One
Padel Court Partner
The JB Corrie Advantage
Bespoke Padel Tennis Courts, designed and manufactured in the UK
We are proud to introduce another innovative new product to add to our existing portfolio of sports fencing solutions – Padel tennis courts.
Completely designed and manufactured at our headquarters in Petersfield, Hampshire, the materials and workmanship, that go into these courts, are second to none, as you would expect from any JB Corrie product.
What is Padel?
We are excited about the growing sport of padel tennis in the UK. An exciting, inclusive sport that is complementary to tennis, multi sport environments at a club or holiday destination. Easy to pick up, but tricky to master, padel tennis is generally played in doubles, ensuring a social based game for all ages. 
It is played on an enclosed court - about a third of the size of a tennis court - and can be played in groups of mixed ages and abilities. The rules are broadly the same as tennis, although serves are made underhand, and the walls are used as part of the game with the ball allowed to bounce off them!
Bespoke Finishing Touches
What our customers say
Case studies and Testimonials
The number of people enjoying playing padel tennis at Chichester Racquets and Fitness Club has exceeded all expectations according to Chairman James Ward who, along with the Board, introduced the game to the club last year. Click here to find out why it has become so popular.